Kitchen Remodeling in Morrow, Georgia
Your kitchen is the most important room in your house. It's the hub of your household where family comes together to share meals, neighbors and friends hang out, and kids do their homework. It's also the room that sees the biggest return on investment when it comes to home improvement. JCW Construction Group, LLC has been remodeling Morrow, Georgia kitchens for 19 years. From small makeovers to complete kitchen design and remodeling, JCW Construction Group, LLC's experienced renovation team can turn your kitchen into your family's favorite room in the house.
---
Call for a FREE Quote
---
Benefits of Remodeling Your Morrow Kitchen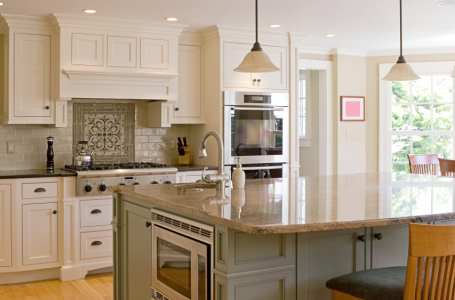 The right cabinets make all the difference when it comes to storage. JCW Construction Group, LLC can help you select cabinets that offer more functionality to make the most of your Morrow kitchen area. Add a custom island to gain counter space, storage for small appliances or pots and pans, and additional seating for a casual get-together. Whether your goal is to utilize your existing space or to expand your kitchen area, JCW Construction Group, LLC will design and build a kitchen that works hard and looks great. We've been renovating Morrow, Georgia kitchens since 2004.
Kitchen Remodeling in Morrow, Georgia
Update the efficiency of your Morrow's kitchen with upgrades that pay off immediately:
Update plumbing and electrical, including proper venting, to meet Georgia code.
Add a ceiling fan, update light fixtures, add task lighting or under cabinet lighting.
Replace existing appliances with energy-efficient appliances.
Replace the existing floor with a lower maintenance version.
JCW Construction Group, LLC has certified plumbers and electricians to ensure that your kitchen is safe and up to code.
Morrow Kitchen Remodeling Services
If you want to update the look of your Morrow kitchen, consider one of these options:
Change your color scheme. Paint the walls or the cabinets with a bold color.
Change your backsplash.
Add architectural interest with a new window in a bold design.
Update your light fixtures and/or cabinet hardware.
Replace your existing countertops with granite or other natural stone.
Add crown molding, chair rail, or custom shelving.
JCW Construction Group, LLC has 19 years of experience updating kitchens in Morrow, Georgia. Your family may never want to eat out again.
---
Call for FREE Kitchen Remodeling Quote
---
WHAT CUSTOMERS ARE SAYING:
5★★★★★ - "JCW construction- Hire these guys- you won't be sorry-
Chris and Pedro were fantastic; for 10 working days, they were here every day at 9:30 am, stayed until they got their daily task completed keeping them on the overall schedule-
New to Georgia I found them thru Angie's list praying we made a good choice! Turns out it was a no brainer!
From the beginning Chris was in constant communication thru email and calls making recommendations on products and where to acquire them and even picked up the tile when he was ready for it!
It really did feel like they came in and cranked it out above expectations and
left us with the bathroom exactly as envisioned!
At the end Chris and I talked about our next 2 projects that I will schedule with them in 2021!
Thanks again"

Sean in Hampton, GA

2020-12-15

5★★★★★ - "JCW did an amazing job transforming our master bathroom from a nice little spot to a fantastic spa! He took our vision and brought it to life. He made suggestions to make it more than what we envisioned. (Beautiful tile work, relocation of fixtures, creation of elegant new shower!) Additionally, the work was top quality and completed in a timely fashion. We will use this company for all our future needs."

Sharon and Cedric in Jonesboro, GA

2020-12-08

5★★★★★ - "Chris was very detailed oriented with our master bath renovation. His work is highly professional! I'm in love with my new 'spa' bathroom! We have more project plans for him.😊"

Vivian in Stockbridge, GA

2020-09-10

5★★★★★ - "After finding out that our master bathroom had a shower pan leak, we needed to take action fast, but we also needed someone who would do an outstanding job – given the fact that our shower is ceramic. After doing several searches, we discovered JCW Construction. Chris really knows what he's doing and it shows. Chris walked us through the entire process of repairing our shower and the remodel that my wife chose. In addition, we decided to let him redo our half bath downstairs, as well as repaint our downstairs- with a few accent walls. We could not have been happier with the work that was done. From the repair, to the painting and trimwork, everything that was done looked outstanding. If you need to do any type of painting or construction in your home, I would highly recommend JCW Construction."

Robert in Locust Grove, GA

2020-08-12

5★★★★★ - "After moving to Locust Grove and finding that our master bathroom had a feature of water pouring into the kitchen below any time the shower was used, we called Chris from JCW Construction. Chris did a fabulous job renovating our bathroom and repairing all the plumbing issues left by the previous homeowner. He was timely, thorough, and he knows what he's doing. His crew was professional and trustworthy. I'd be delighted to work with Chris on other major home renovations again in the future."

Amanda M in Locust Grove, GA

2020-06-22

5★★★★★ - "Chris did a superb job on remodeling our bathroom and upgrading my spa area."

Patrick in McDonough, GA

2020-06-15

5★★★★★ - "Chris and his team did a phenomenal job renovating my entire upstairs, which included my master bedroom & bath, my hall bathroom, my office and 2 additional bedrooms, along with my staircase. They didn't just hear my thoughts, they actually listened as I shared my vision and they made excellent suggestions, which enhanced the outcome. As a result, what was once an average space, has now become my haven of relaxation and tranquility. They went above and beyond my expectations and I would highly recommend him and his team to anyone seeking professionals, who take pride in their craft and delivers on their promise. Together they make, what was once ordinary become "Extraordinary!" JCW Construction Group will be my go to for all future renovations. Thank you again for a job well done!"

Cheryl W. in Ellenwood, GA

2020-05-29

5★★★★★ - "Chris converted our master bedroom shower into a wheelchair accessible shower stall. We are very pleased with the outcome. He was spot on with the starting and completion date as well as the pricing. He puts it all down on paper. No surprises or gimmicks. Professional work and a pleasant demeanor. He also installed swing away door hinges on several doors in our home which widens the doorways for my wife's wheelchair access. We highly recommend Chris for any home construction needs."

Mr. Kaz in McDonough, GA

2020-02-12

5★★★★★ - "Chris and crew did a great job fully gutting my 1960's bathroom and bringing it into 2020. He kept me up to date along the way, giving me suggestions and options. Returned my calls within 24 or less. Allowed me to tweak things that they hadn't started on yet. The overall result is a bathroom I enjoy showering in. I will and would reach out to Chris again if or when I need help with the services he provides. Very easy person to work with!"

Todd in Griffin, GA

2019-12-30

5★★★★★ - "Chris and his staff renovated our entire house and did a great job. They renovated our kitchen, floor, bathroom, garage, and painted the walls. We are satisfied with the work."

Dhruvi in McDonough, GA

2019-12-23

5★★★★★ - "Chris and his team did an exceptional job with our lower level Garden apartment. He took our vision of the Farmhouse style an extra step. Excellent work and a nice person to do business with , thanks Chris!"

Victor Claudio in Fayetteville, GA

2019-11-19

5★★★★★ - "Very professional, detailed oriented and neat. Highly recommended."

Tracey B

2019-11-14

5★★★★★ - "Chris and company did such a good job on our bathroom renovation that we hired him to remodel much of the house we moved to in Sun City Peachtree. He did a wonderful job in the kitchen, new custom cabinets, granite countertop, plumbing and corrected an electrical "code" violation we found. He then replaced 80% of the flooring and painted 90% of the inside of the house. Work is very good and prices are very fair."

Steve Woods in Griffin, GA

2019-11-12

5★★★★★ - "Chris and his team totally exceeded my expectations with the wood wall paneling and ceramic tile flooring. I am going to definitely use them for future projects."

Renee in Mc Donough, GA

2018-10-15

5★★★★★ - "We bought our home just over a year ago & our master bath was very outdated with a shower stall I didn't fit in. I called several companies including Chris. He gave us a very fair price and did a great job. He took our 15 year old contractors bath and made it look like something from a design magazine. He asks questions and has great ideas. I'll hire him again without pause."

Steve W. in Stockbridge, GA

5★★★★★ - "Chris far exceeded our expectations with my master bathroom. He was communicative and gave us great ideas through the entire process. It was clear that he wanted us to be 100% satisfied. We plan on using him for all of our home projects"

Laura in McDonough, GA

4★★★★☆ - "Chris and his staff did an excellent job with the renovation of my master bathroom."

Melinda
---
Call for FREE Kitchen Remodeling Quote
---